Christ the King scores late win over Xavier
10/18/15 - 08:39 AM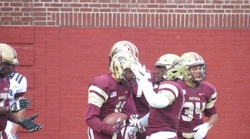 Alex Miranda (WR, #11) celebrates his game winning touchdown with teammates
MSG Varsity
By Elio Velez
Christ the King quarterback David Navas was facing another critical moment late in the fourth quarter as the hosts were looking to score the game-winning touchdown Saturday afternoon.
"With 19 seconds left, we didn't pay mind to the fans, to the level of this game," Navas said. "We just had to lock on this play and beat this team."
The Royals executed on the designed play. Navas completed a 19-yard touchdown to wide receiver Alex Miranda in the right corner of the end zone with 10 seconds left in regulation as Christ the King recorded a 21-15 victory over Xavier in a CHSFL Class AA contest held at Franklin K. Lane High School.
"My quarterback put me in a spot where I had to go get