MSG Varsity Camp Confidential: Christ the King Royals
9/4/16 - 08:57 PM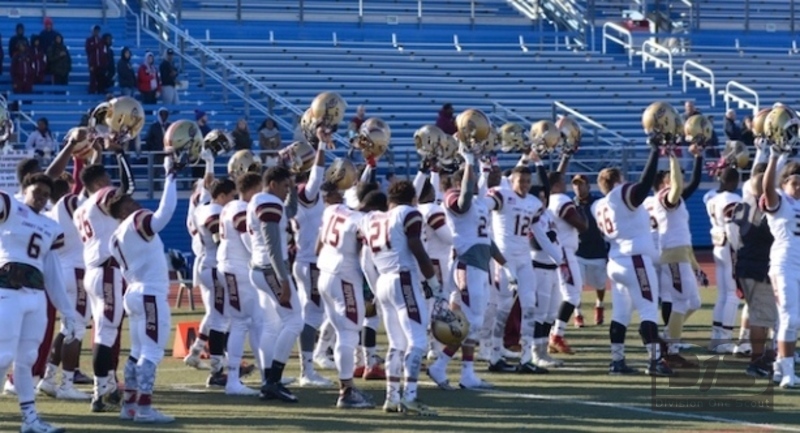 The Royals head into the 2016 season with confidence
MSGVarsity.com
by Elio Velez on Sat, Sep 3, 2016 4:48 AM — @eliovelez
Christ the King Royals Confidential
LAST SEASON: 10-1 (Lost to Xavier in CHSFL AA championship)
HEAD COACH: Jason Brown (3rd season)
TOP RETURNING PLAYERS: Anthony Lang (Sr. DE/TE), Justin Terry (Sr. WR/DB), Siddiq Muhammad (Sr. RB/OLB), Randy Pringle (Sr. DB), Jonathan Coste (Sr. DE), Adrian Velez (Sr. RB)
NEW CONTRIBUTORS: Jarrett Paul (JR. DB), Prince Williams (Sr. DT), Demetrius Wilson (Jr. QB)
OUTLOOK: One sequence during last year's CHSFL Class AA championship game ultimately defined Christ the King's 2015 season.
Royals coach Jason Brown took responsibility along with his coaching staff when its special teams allowed Xavier to block an attempted punt that allowed the Knights to scoop up the ball for the game-winning touchdown to seal its first Class AA title. The lesson of that day last November has been taken quite seriously for this upcoming season.
"Our motto this year is to finish. The problem we had last year the kids were undisciplined on the field," Brown said. "We had 10 guys on the punt and a guy ran down unshielded down the field. it was management, coaches fault and you cant blame the kids. You got to put them in the right spot and it could have worked out"
The bitter ending overshadowed what was a quite year for the Royals, who have continued a turnaround in the standings ever since Brown arrived to take over the program three seasons ago. Christ the King returns 26 players and a number of those have already received scholarships from NCAA FCS programs or offers from BCS schools.
The Royals have a number of players hat will start or see time on both sides of the ball. At least four of Brown's starters have accepted scholarships including lineman Anthony Lang to Albany, Justin Terry to Monmouth, running back Siddiq Muhammad to Marshall and Stony Brook bound Randy Pringle.
"We're just focusing on trying to be more disciplined as a team. We're just trying to stay on track and have that same skillset," Terry, who will start at defensive back and at wide receiver, said. "We lost a couple of guys but I still think we have that same skillset to get us where we was last year. We just need to finish."
The newest face on the offensive side of the ball is the most important position. Cardozo transfer Demetrius Wilson is an athletic 6-foot-1 quarterback who doesn't have a lot of experience but his potential upside would match up with his teammates.
Senior wide receiver Tosin Oyekanmi was the team's leading receiver and a deep threat downfield. Siddiq Muhammad will use his burly strength in the backfield and mix and match alongside Adrian Velez, Elyjah Campbell, Hasan Chambers, Aron Sanabria and others.
The team's strength defensively may arguably be the secondary with Terry, who had 64 tackles last season coming back at free safety, joining alongside Pringle, Maalik McClymont and promising sophomore defensive back Jarrett Paul. Jonathan Coste was second in the team with 7 sacks last season and newcomers Prince Williams, a transfer from Valley Stream High School along with Felix Jerez will see time on the defensive line.
"We're really working hard. We're kicking it up a notch so we're going hard every day. Working in the weight room," Muhammad said. "We're really working hard. Hopefully we get that ring we are looking for."
2016 SCHEDULE
Home games at Franklin K. Lane HS
Sept. 10, 1:30 p.m. vs. Xavier
Sept. 16, 7 p.m. at Poly Prep
Sept. 24, 1:30 p.m. vs. St. Anthony's
Oct. 2, 1 p.m. at St. Francis Prep (Martin Van Buren HS)
Oct. 9, 1 p.m. vs. Iona Prep
Oct. 15, 7 p.m. vs. Kellenberg (Mitchel Athletic Complex)
Oct. 22, 1:30 p.m. at St. John the Baptist
Oct. 28, 7 p.m. at Fordham Prep
- See more at: http://www.news12varsity.com/nyc-camp-confidential-christ-the-king-1.1809283#sthash.z1Ex89UG.dpuf
---