NYC Football Roundup: CK Clinches Title Berth
11/16/15 - 08:19 PM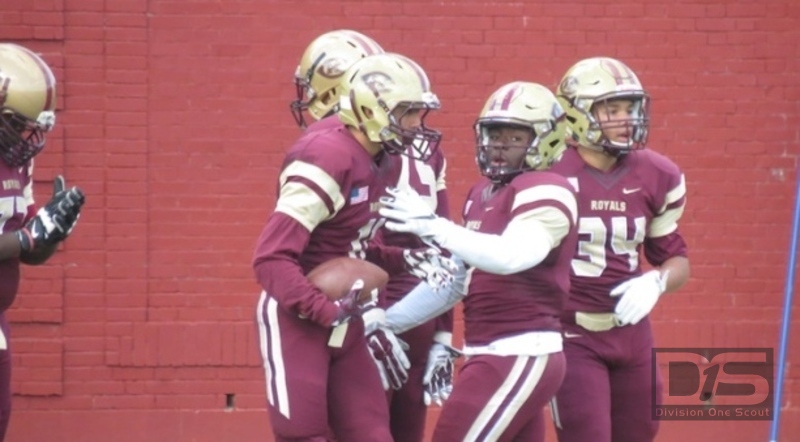 On Saturday, CK will look to win its first football championship on any level since 2003. They will play Xavier for the NYCHSFL "AA" Championship
by Elio Velez on Mon, Nov 16, 2015 1:55 PM — @eliovelez -
Christ the King continued its quest to achieve a perfect season by scoring 21 unanswered points in the second quarter in advancing to the CHSFL Class AA championship game with a 41-7 semifinal victory over Fordham Prep Saturday afternoon at Franklin K. Lane High School.
Adrian Velez (56 yards rushing, 2 TD's) scored a 14-yard touchdown late in the second quarter as the Royals (10-0) took a 28-7 lead at halftime. Junior running back Siddiq Muhammad rushed for a game high 156 yards on 11 carries with 2 touchdowns for Christ the King along with Giovanni Paul-Downie adding a rushing score and quarterback David Navas completing a 21-yard passing score to wide receiver Alex Miranda. Fordham Prep (7-3) had its lone score in the first quarter on quarterback Matt Valecce's scoring pass to wide receiver Rory Allen.
Christ the King advances to the CHSFL Class AA title game against Xavier on Saturday at 2 p.m. from Mitchel Field in Uniondale.
No. 2 Xavier 14, No. 3 St. John the Baptist 0
The Knights broke a scoreless deadlock late in the fourth quarter when running back Michael Chiarovano scored two rushing touchdowns in a CHSFL Class AA semifinal game held at Aviator Complex. Chiarovano scored a 3-yard touchdown with four minutes left in regulation and the senior clinched the game on a 2-yard touchdown run with a minute left in the game. Xavier (9-1) will try to avenge a regular season loss to Christ the King in a title game rematch on Sunday. The Knights lost 21-15 on a late touchdown pass from Royals quarterback David Navas to Alex Miranda with 10 seconds remaining in the fourth quarter.
- See more at: http://msgvarsity.com/nyc-football-roundup-ctk-clinches-title-berth-1.1752182#sthash.7R2E64X1.dpuf
---
NY CHSFL Semi Final Preview: CK vs. Fordham Prep
11/13/15 - 09:29 PM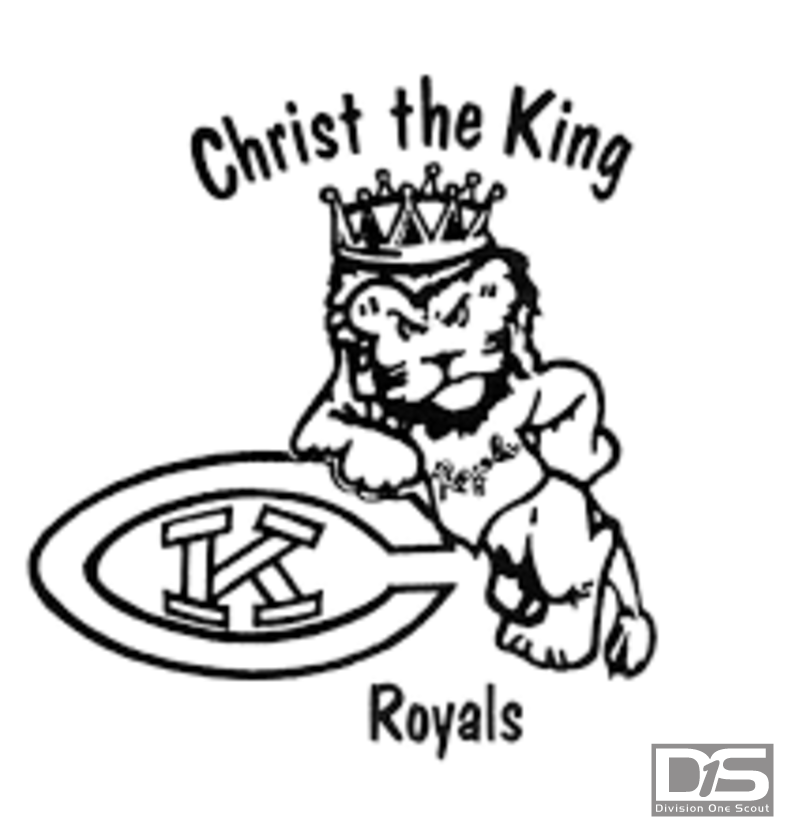 By Matt Diano:
A barn-burner when these two programs went head-to-head all the way back in week #1, the Rams would be a position to win the game after taking their first lead of the contest, 20-19, with a little over eight minutes remaining….However, showing why they would go on to be the leading point scorers in the AA division, the visiting Royals would answer back, scoring a touchdown and 2-point conversation of their own at the 3:41 mark to claim the victory, 27-20…On both sidelines, it would be the stellar play from the quarterback position that would serve as the offensive catalysts as Fordham Prep sophomore, Matthew Valecce, would complete 23 of his 33 pass attempts for 241 yards and three touchdowns (all to senior Rory Allen (8 catches, 106 yards)…His counterpart, Royal senior field general, David Navas, would also be quite effective at moving the ball, connecting on 11-of-16, including the aforementioned game-winning 29-yard strike to Alex Mirada (7 receptions, 97 yards).
In the rematch this Saturday, FP (who had -27 yards rushing on September 11th) will need to get just as big a game out of their QB, while the top-seed from Middle Village will likely have the luxury of relying on more of a balanced offense. The Royals are blessed with such immense athleticism across the board that in last weekend's 60-20 quarterfinal victory over St. Francis Prep, four different rushers would combine to score six touchdowns, while Navas would hit Tosin Oyekanmi on a pair of TD passes en route to the offense to racking up close to 500 total yards (312 on the ground, 151 in the air).
Another key to determining who will get the "w" this weekend will be the success rate of the Fordham Prep offensive line in protecting their hurler. In the initial meeting, CTK took residency in Valecce's face, sacking him eight times, with four of those coming from junior DT, Jonathan Coste)…Should the Royals be able to generate this same type of uninterrupted pass rush, it hard to imagine Fordham Prep walking out with a win under their belt…On the flip side, if given ample time in the pocket, the super soph has already shown countless times this season that he has the tools to decimate opposing defenses.
---
CK beats Kellenburg, finishes the season undefeated
11/2/15 - 06:27 PM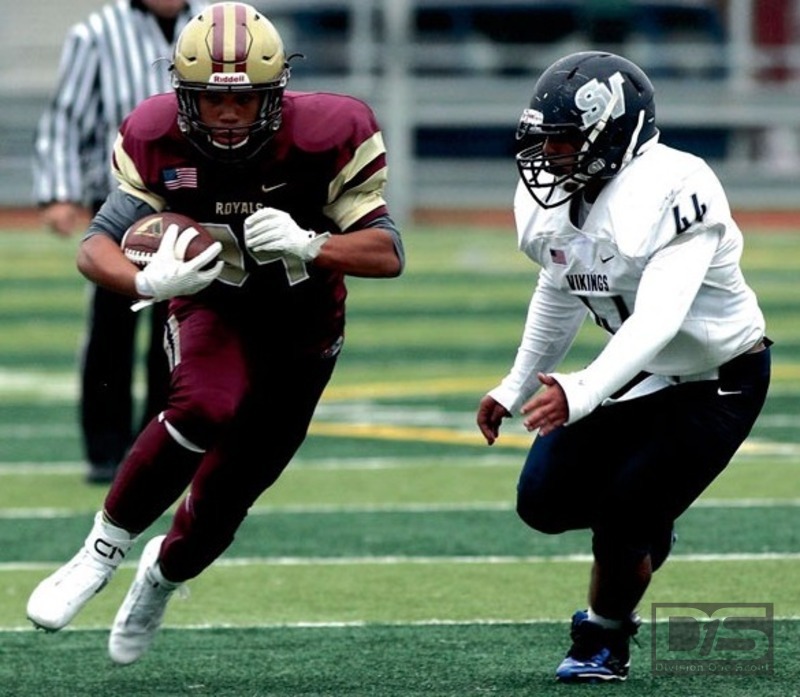 CK looks to stay unbeaten and advance in the playoffs. They will take on St. Francis Prep this Saturday
The Royals completed a perfect season on Sunday, beating Kellenburg by a score of 42-24. The victory moves the Royals record to a perfect 8-0, including 7-0 in the CHSFL "AA" division.
This marks the best finish in the Royals history. CK now has homefield advantage throughout the "AA" playoffs.
They will take on St. Francis Prep in the quarterfinal round of the upcoming playoffs. CK previously beat Prep by a score of 54-14.
The game will be held at the Royals home field, Franklin K. Lane, on Sunday, November 8th at 1:00pm.
The JV Royals will also be in the playoffs. They finished with a solid 4-4 record, including wins in three out of their last four games.
CK enters the playoffs as the 6th seed. They will take on #3 seed Mount St. Michael Academy on Saturday at 10:00am at the Mount.
Good luck to the Royals teams as they look to win championships!
---
QB Navas earns CHSFL Player of the Week
10/22/15 - 08:07 PM
QB Navas earns CHSFL player of the week for week #6
Royals Senior QB David Navas earned the title of Player of the Week from the CHSFL.
Navas, who helped lead CK to their first victory over Xavier in 18 years, finished the game with an impressive stat line of 10-15 with 282 yards passing and three touchdowns.
He completed the game-winning touchdown pass to receiver Alex Miranda with just 10 seconds left in the fourth quarter to help the Royals secure the victory and a perfect 6-0 (5-0) record.
To read more, click on the link below:
http://nychsfl.org/2015/10/week-6-chsfl-players-of-the-week-announced/
---
CK stays unbeaten, Holds on to number 9 spot in latest NYC rankings
10/20/15 - 06:43 PM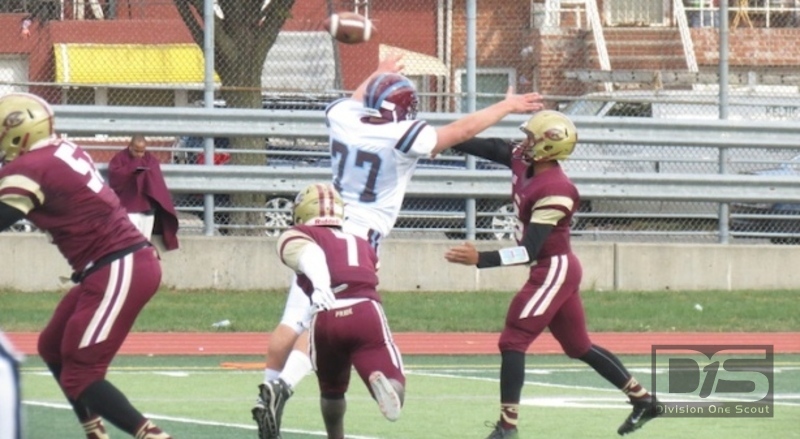 QB David Navas completes one of his ten passes in CK's last second win over Xavier on Saturday
The Royals hold on to their top ten ranking in MSG Varsity's latest poll, courtesy of their recent 21-15 victory over league power Xavier.
CK is now one of only two unbeaten teams left in all of the CHSFL. At 6-0, CK is off to their best start in years.
Their next opponent will be Queens rival St. Francis Prep on Saturday, 1:30pm, at Franklin K. Lane Campus.
To see the rankings, click on the link below:
http://www.msgvarsity.com/power-rankings-nyc-football-10-20-1.1738908
---
Christ the King scores late win over Xavier
10/18/15 - 08:39 AM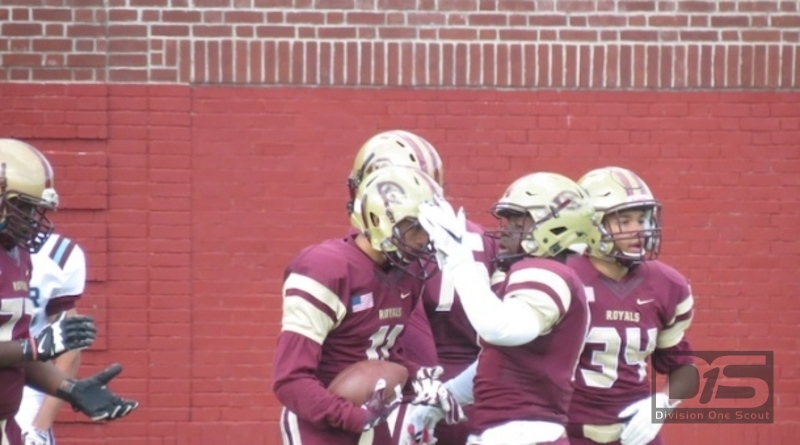 Alex Miranda (WR, #11) celebrates his game winning touchdown with teammates
MSG Varsity
By Elio Velez
Christ the King quarterback David Navas was facing another critical moment late in the fourth quarter as the hosts were looking to score the game-winning touchdown Saturday afternoon.
"With 19 seconds left, we didn't pay mind to the fans, to the level of this game," Navas said. "We just had to lock on this play and beat this team."
The Royals executed on the designed play. Navas completed a 19-yard touchdown to wide receiver Alex Miranda in the right corner of the end zone with 10 seconds left in regulation as Christ the King recorded a 21-15 victory over Xavier in a CHSFL Class AA contest held at Franklin K. Lane High School.
"My quarterback put me in a spot where I had to go get it," Miranda said. "I just did my job. I did everything I could to get the ball."
An impressive 10-play, 92-yard fourth quarter scoring drive helped Christ the King improve to 6-0 in what was a contest of two previously unbeaten teams. The Royals not only handed the visitors its first defeat this season, but also recorded their first win over Xavier since 1997.
"We don't want to underestimate any opponent and they played a hard game," Navas said. "We thought about this game as a championship game. Down to the wire, fourth quarter, victory."
Navas completed 10 of 15 pass attempts for 282 yards and 3 touchdowns as Christ the King had success in the second half from the air. Miranda finished with 4 catches for 139 yards along with 2 touchdowns and junior wide receiver Tosin OyeKanmi had three of his game high 6 catches on the game-winning drive.
The Royals, ranked No. 9 in New York City by MSG Varsity, had averaged almost 40 points in their last five games, but scoring the football wasn't going to come easy against a tough Xavier defense.
Xavier (5-1) struck for the opening score on the first play of the second quarter as Michael Chiarovano (21 rushes, 85 yards) had a 1-yard touchdown run for a 7-0 lead. Christ the King needed just four plays on the next series to get on the scoreboard as OyeKanmi outran a defender to complete a 40-yard touchdown pass and the junior completed the two-point conversion for an 8-7 lead with 8:52 left in the half.
Xavier controlled much of the clock in the late third quarter and took 15-8 lead when Chiarovano lunged the ball into the end zone for a 6-yard touchdown run with 1:07 left.
Royals coach Jason Brown allowed Navas to attack the Xavier secondary since the visitors did not allow his running backs to pile up yardage. His tactical switch paid off on the team's next offensive series as Navas completed a 67-yard scoring strike to Miranda with 9:52 left in regulation to knot the game at 15-all.
"I take the hit on this one cause I should have opened up the pass earlier. They were playing up on our guys," Brown said. "We had the speed so we had to use it."
A potential Xavier scoring drive ended just inside Royals territory when Matthew Grizzle's sack on quaterback Joseph Morelli helped to force a punt. The Royals started at the 8-yard line but OyeKanmi converted a critical third and long and made a 5-yard catch on fourth down to keep the drive alive and set up Miranda's game-winning score.
The late touchdown catch was a flashback moment for Miranda since it was the same combination in Week 1 that came up with a 29-yard score late in regulation to complete a 27-20 comeback win at Fordham Prep. Miranda knows his team will enjoy the moment but there are still better and brighter days for his team to still achieve.
"Yeah it really does feel like that. My team did great this game," Miranda said. "We're just a hell of a team this year and we're going to keep going. We're not stopping."
- See more at: http://www.msgvarsity.com/brooklyn-bronx/christ-the-king-scores-late-win-over-xavier-1.1737574#sthash.SwDDm2Vb.dpuf
---
Times Ledger: CK runs past SJBS
10/10/15 - 12:17 PM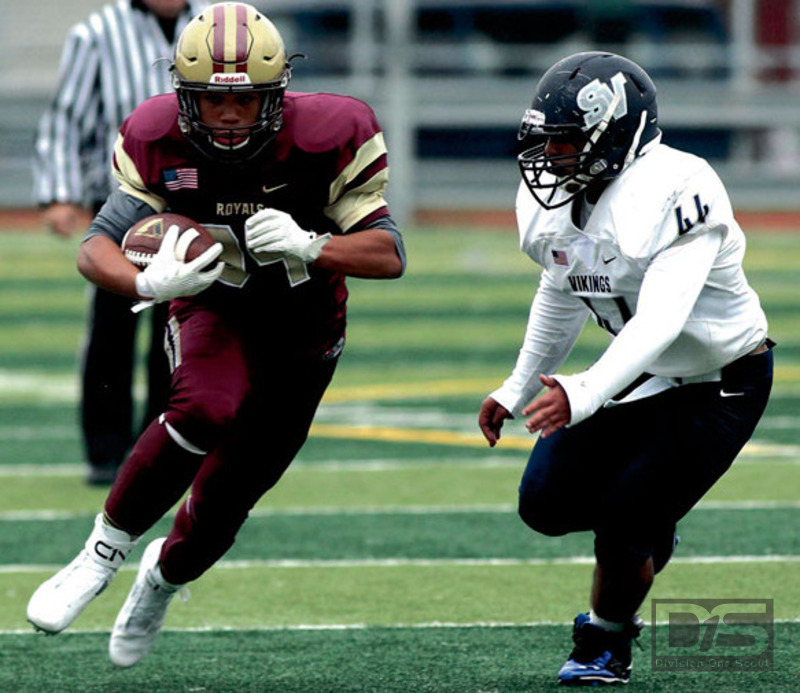 CK's Adrian Velez rushes for a touchdown in CK's week four victory over SJBS
Times Ledger
By: Brandon Mauk
No matter who was taking the handoff, Christ the King had no trouble running the ball against St. Joseph by the Sea.
Five different Royals scored rushing touchdowns to lead the team to a 39-6 Homecoming victory in CHSFL Class AA play at Franklin K. Lane last Saturday.
"Man, it's great, because we get to go back to school and everybody's happy," running back Elyjah Campbell said. "We'll have a good time."
The Royals are now 4-0 under second-year head coach Jason Brown, and are firing on all cylinders on both sides of the ball.
Christ the King started out quickly, unlike in previous weeks. They scored touchdowns on their first three possessions of the game, jumping out to a 19-0 halftime lead.
Campbell ran for the first two scores, one from 12 yards out and the second from 16 yards. The CK defense also played a huge role in the victory, as they forced three interceptions, including two by defensive back Garfield Hall.
"We put a lot of pressure on the quarterback," Brown said. "We have a lot of athletes on defense. Their guy helped a lot. He forced a lot of throws that made a lot of intercepti­ons."Their defense needed to play especially well in the second and third quarters, as the Christ the King offense stalled with limited time to pass the ball on a cold and windy afternoon.
"Whenever our offense struggles, we're going to help them out," Hall said.
After St. Joseph-by-the-Sea (1-3 overall, 0-3 in league play) got on the board with a 57-yard touchdown pass to make it 19-6, Christ the King immediately snapped out of its offensive funk. The coaches and team leaders had to keep their heads in the game.
"I think it was more the atmosphere because it was Homecoming," Brown said. "A lot of guys got excited and didn't focus on what they needed to do."
His team went back to their ground game to do that. On the first play from scrimmage following Sea's score, they got the touchdown back on a 90-yard run by Giovanni Downie.
The Royals put on the finishing touches with two more scores. Maalik McClymont set up a 4-yard touchdown run by Siddiq Muhammad with an interception, and Aron Sanabria iced the game with a 35-yard score on the ground. The officials called the game early after a scuffle between the teams broke out after the last touchdown.
"The run was working really well," Brown said. "I would have liked to have complete more passes down the field, but you run the ball, you win a lot of games faster that way."
---
CK beats St. Joe's by the Sea; Improves to 4-0
10/3/15 - 09:46 PM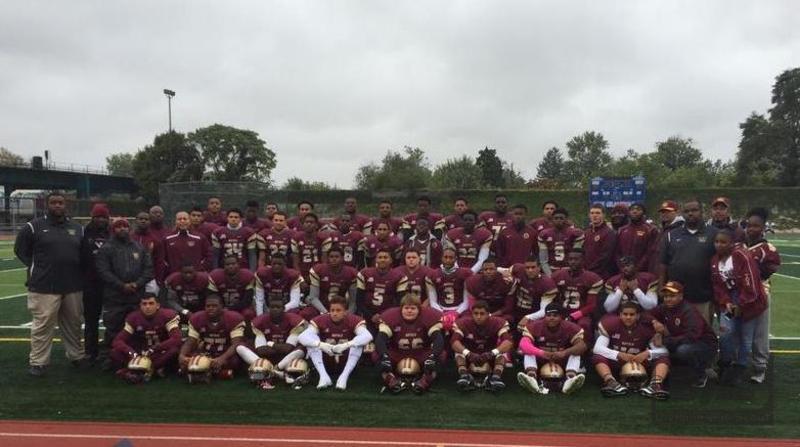 CK continues it great start to the season with its most recent victory, a 39-6 victory over St. Joe's by the Sea.
On a rainy Homecoming game for the Royals, CK dominated the game from start to finish. Highlighted by two touchdowns from RB Elyjah Campbell, and two interceptions by Garfield Hall, CK pounded on their "AA" opponent to improve their record to 4-0 (3-0). CK is currently tied with Xavier, whom they will play next week, for first place.
Congratulations to the Royals on their great win.
---
Congratulations to Coach of the Week Jay Brown
9/17/15 - 08:45 PM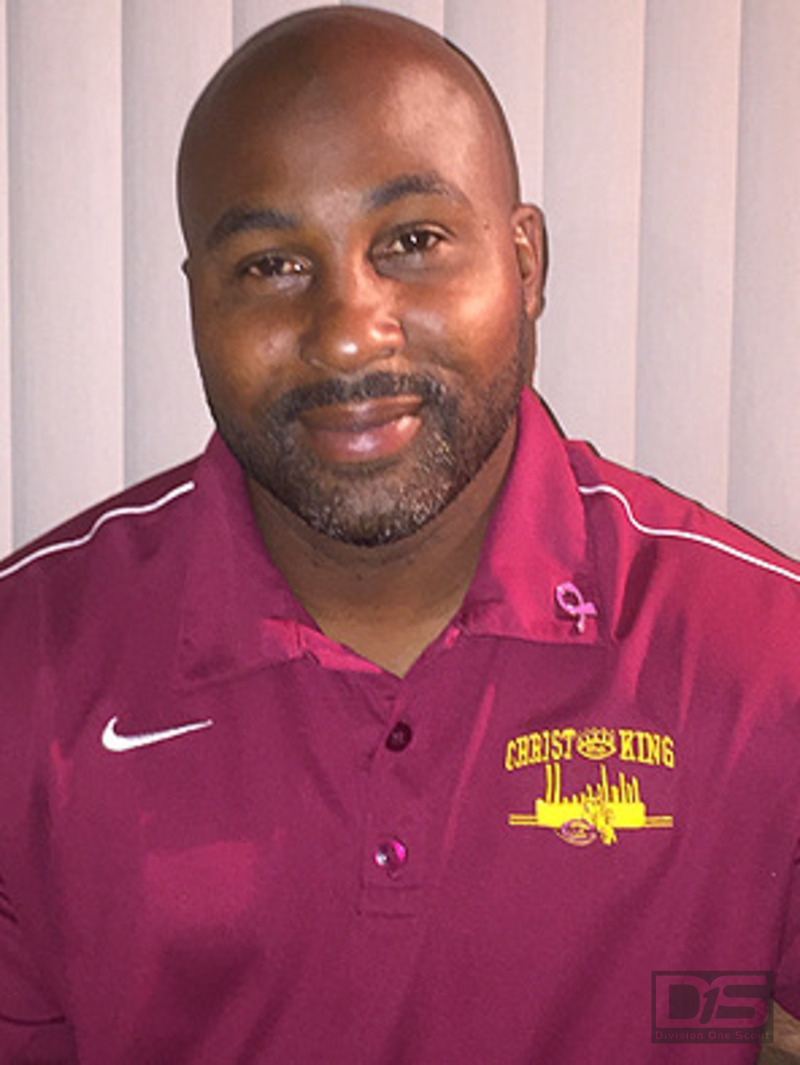 Coach Jay Brown has guided the Royals football program to a competitive BQ team in his 1 year+ at the helm of the Royals varsity squad
NYGiants.com
East Rutherford, NJ -
http://m.giants.com/news-and-blogs/article-1/Giants-name-Jason-Brown-Coach-of-the-Week/c18687f2-6a75-497a-9511-e784fc422978
The New York Giants have selected Mr. Jason Brown of Christ the King High School (Middle Village, NY) as "The Lou Rettino High School Football Coach of the Week" presented by Chase for the week of September 14, 2015. Coach Brown and the Royals opened the season with a 27-20 comeback win over the Fordham Prep Rams.
In recognition of Coach Brown's success and commitment, he will receive a certificate of recognition signed by NFL Commissioner Roger Goodell and Giants Head Coach Tom Coughlin and a $1,000 check, to be matched by Chase, will be granted to the Royals football program. Coach Brown will be acknowledged by a stadium announcement when the Giants host the Atlanta Falcons on September 20th and an announcement will also be posted on the Giants website, www.giants.com.

The Lou Rettino High School Football Coach of the Week Award is part of the Giants' continuing effort to promote youth football. The Giants elected to name the award in memory of former Union High School (NJ) coach, Lou Rettino, for his fine commitment to the game of football, his community and the betterment of his athletes' lives.

Each week during the 2015 high school football season, the Giants will select one area high school head coach as the Coach of the Week winner. The selection is based on the coach's continuing commitment towards promoting youth football, developing motivated student-athletes and his overall community involvement. At the conclusion of the 2015 season, the Giants will choose a Coach of the Year. That coach will receive $2,000, to be matched by Chase, for their school's football program. They will also be invited to attend a dinner hosted by the Giants and Chase.

Last year, Chase committed over $17 million in charitable donations in the tri-state area. Investing in the communities it serves is central to how Chase does business, and the firm is committed to supporting programs like youth football that provide young people with access to a positive extracurricular activity.
Coach Brown began his coaching career as the Head Coach for the JV football team at Christ the King High School for two years until becoming the school's Head Coach for the Varsity football team. He attended Christ the King HS where he played football, basketball, baseball and ran track. He had offers for partial scholarships at three Division 1 colleges (North Carolina, South Carolina and Wyoming) for track. He graduated in 1990 and went on to receive a degree in Science. Coach Brown is currently an electrician with Local Union #3.
---
Title time: Revampled CK wants to complete turnaround with crown
9/13/15 - 10:54 AM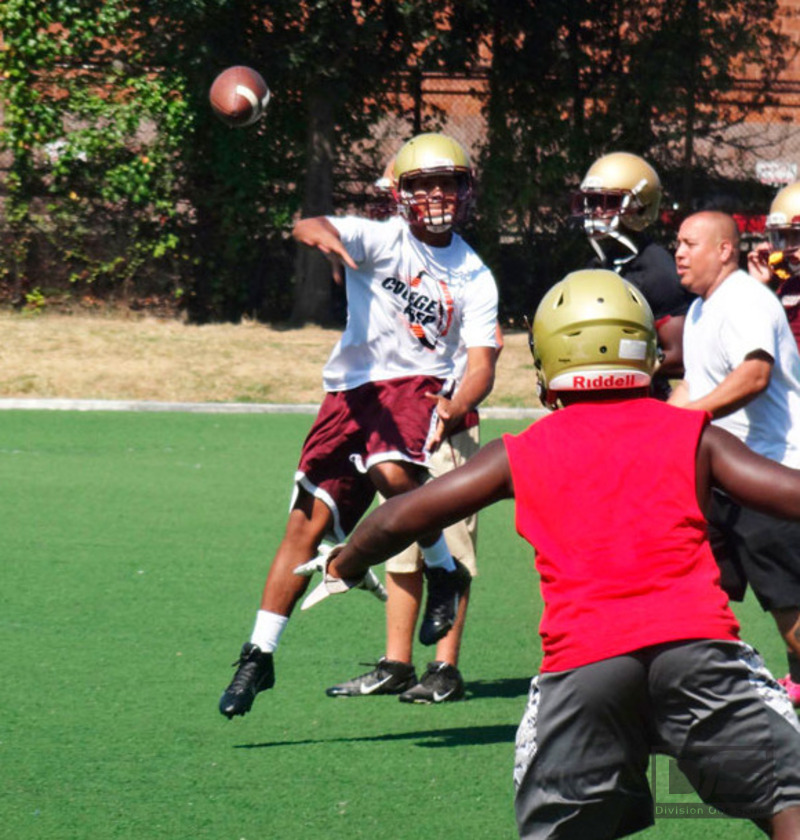 CK opened the season with a win for the second consecutive year
TimesLedger.com
By Brandon Mauk
Christ the King's football team had its best campaign since 2010 last season, finishing 6-3 and making an appearance in the CHSFL Class AA playoffs. But this year, the Royals are hungry for even more. CK believes it has the tools to improve after adding players from a junior varsity team that went 11-1 and reached the Class AAA final to a strong returning core.
"Going into the second year, it looks a lot better," coach Jason Brown said. "We have a lot of talent coming from the JV. We have a real promising team."
Many of his players are a bit bolder with their goals for 2015.
"I expect to win the chip, nothing less," said senior linebacker Matthew Grizzle. "That's what we're aiming for."
Christ the King intends on beating teams with speed on both sides of the ball and coach Brown is focused on designing one-on-one schemes to his players' benefit.
The kids up from the JV who will play a big role include defensive backs Randy Pringle and Adrian Velez-Tolson as well as running backs Elyjah Campbell and Harrison Abreu. The Royals' versatile athletes provides the team with the opportunity to be very balanced in their attack, giving them the ability to be a speed or power running team.
"It's hard to scout or try to see what we're trying to do, because we hit you from all kinds of angles," Brown said.
He is also experimenting with using players like Giovanni Downie, also a running back, in the slot at receiver to create favorable matchups. Senior Lorenzo Worrell leads the offensive line. Many players are used on both sides of the ball.
Getting all of that talent involved on offense is something senior quarterback David Navas is more than ready to take on.
"With us coming up and building team chemistry in preseason and offseason, we're going to have a successful year," he said.
Brown's approach on defense is very similar to his offense. He has several fast defensive backs up from the JV and senior linebacker Brent Priester to make life tough on opposing receivers.
"We know the offense is going to move the ball, so we just want to do our job," Grizzle said. "Got to get the offense the ball as soon as possible."
Christ the King believes this team is deep enough to reestablish itself as a power in the CHSFL, starting Friday night against last year's 'A' champion Fordham Prep.
---
Late TD powers CK over Fordham Prep
9/12/15 - 11:23 AM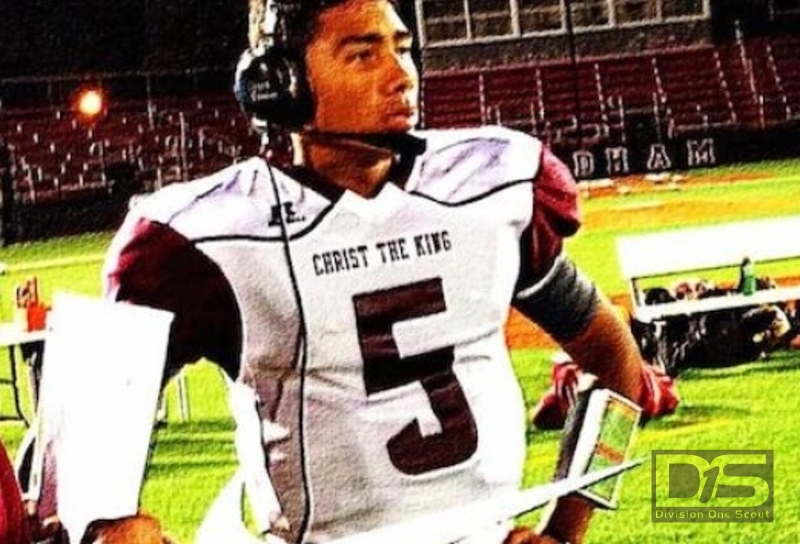 QB David Navas helped lead CK to an opening night victory over
MSG Varsity
by Elio Velez on Sat, Sep 12, 2015 2:11 AM
Updated Sat, Sep 12, 2015 10:12 AM
Christ the King faced its toughest hurdle trailing late in the fourth quarter to Fordham Prep on Friday night at Fordham University, but there was not an iota of fear when quarterback David Navas spoke to Alex Miranda in the huddle.
Navas had the utmost confidence his senior wide receiver would make the big play with the Royals facing a critical fourth down and long. The Royals quarterback lofted a long pass downfield which Miranda caught in the corner of the end zone for a 29-yard touchdown with 3:40 left in regulation to give the visitors a 27-20 comeback victory at Coffey Field in the Bronx.
"On that play specifically I told him on that play and in that huddle, it was a hitch-and-go and its yours. I told him on that play and it was successful right there 11 (Miranda) from 5 [Navas]," Navas said.
Miranda got a step ahead of the Fordham Prep defender near the 5-yard line and took in the touchdown pass from Navas [10-of-14 for 110 yards, 46 rushing yards) helping the Royals regain the lead for good. Johnathan Coste had three sacks as Christ the King earned an impressive CHSFL 'AA' division road win.
"I had trust with him. I knew he was going to either get it to the sideline or get it where I can catch it," Miranda said. "He gave it that nice little arch and I knew I had to do what I can to get the ball."
Second-year coach Jason Brown has done a good job helping the Royals, who had struggled in recent seasons, to the first round of the 2014 Class AA playoffs last year.
Brown wants his team to keep taking steps to become a prominent program and expectations have risen with an infusion of talent from the junior varsity team that reached the Class AAA junior varsity title game.
"The kids have a lot more confidence than before. Our upperclassmen would've just tuck their tails and just folded," Brown said. "Now we have a different breed of kids who believe in themselves. There were a lot of mistakes out there, but I'm more proud that they came back and fought back."
The Royals jumped out to the lead just a minute and half into the game as Giovanni Paul Downie rushed for an 11-yard touchdown to take a 7-0 lead. Ahmad Fernandez later helped the Royals take a 13-6 lead on a two-yard touchdown early in the second quarter.
Fordham Prep sophomore quarterback Matt Valecce (18-of-27 for 215 yards, 3 TDs, 1 INT) withstood constant pressure from the Royals defensive line and kept his undermanned team in the game. Valecce had a good rapport with wide receiver Rory Allen (7 receptions for 110 yards, 3 TDs), who caught a 29-yard touchdown pass on fourth down and long with 7:19 left in the third quarter to cut the deficit to one point.
Christ the King extended the lead on the last play of the third quarter as Justin Terry completed his blitz of Valecce by intercepting his pass attempt and returning the ball to the end zone for a 30-yard touchdown. The Rams answered back with Valecce locating a wide-open Allen in the end zone for a 19-yard touchdown reception.
Allen caught a tipped-pass to earn the two-point conversion to give his team a brief 20-19 lead with 8:19 left in regulation. Yet it wasn't enough for his team to hold and win the home opener. Fordham Prep will host St. Francis Prep next Sunday at Coffey Field.
"I felt like we played a real good game but they had a couple of big plays that killed us down the field," Allen said. "We fought hard and our defense played really well. But the big plays really killed us today."
Navas won't allow himself or his teammates to let the victory swell their heads. because the goal is to compete for a Class AA league title. They have to be serious and studious nature, not cocky or overconfident.
"Well last year our trip into the playoffs set the table for us and now its just time for us to eat off the table," Navas said.
- See more at: http://www.msgvarsity.com/late-td-powers-christ-the-king-over-rams-1.1723710#sthash.kVPs3DPm.dpuf
---
Friday Night Lights
9/10/15 - 05:57 PM
CK Royals vs. Fordham Prep Rams on Friday night @ 8:30pm
The Royals will open their season on Friday night under the lights of Coffey Field on the campus of Fordham University.
CK takes on the Rams of Fordham Prep at 8:30pm. Come out and support the Royals as they look to improve upon last season's successful 6-4 campaign.
---