Late TD powers CK over Fordham Prep
9/12/15 - 11:23 AM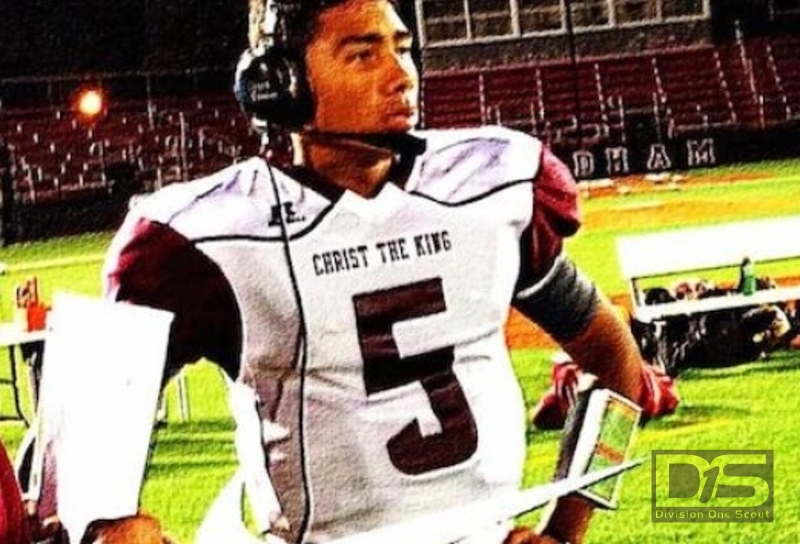 QB David Navas helped lead CK to an opening night victory over
MSG Varsity
by Elio Velez
on

Sat, Sep 12, 2015 2:11 AM
Updated Sat, Sep 12, 2015 10:12 AM
Christ the King faced its toughest hurdle trailing late in the fourth quarter to Fordham Prep on Friday night at Fordham University, but there was not an iota of fear when quarterback David Navas spoke to Alex Miranda in the huddle.
Navas had the utmost confidence his senior wide receiver would make the big play with the Royals facing a critical fourth down and long. The Royals quarterback lofted a long pass downfield which Miranda caught in the corner of the end zone for a 29-yard touchdown with 3:40 left in regulation to give the visitors a 27-20 comeback victory at Coffey Field in the Bronx.
"On that play specifically I told him on that play and in that huddle, it was a hitch-and-go and its yours. I told him on that play and it was successful right there 11 (Miranda) from 5 [Navas]," Navas said.
Miranda got a step ahead of the Fordham Prep defender near the 5-yard line and took in the touchdown pass from Navas [10-of-14 for 110 yards, 46 rushing yards) helping the Royals regain the lead for good. Johnathan Coste had three sacks as Christ the King earned an impressive CHSFL 'AA' division road win.
"I had trust with him. I knew he was going to either get it to the sideline or get it where I can catch it," Miranda said. "He gave it that nice little arch and I knew I had to do what I can to get the ball."
Second-year coach Jason Brown has done a good job helping the Royals, who had struggled in recent seasons, to the first round of the 2014 Class AA playoffs last year.
Brown wants his team to keep taking steps to become a prominent program and expectations have risen with an infusion of talent from the junior varsity team that reached the Class AAA junior varsity title game.
"The kids have a lot more confidence than before. Our upperclassmen would've just tuck their tails and just folded," Brown said. "Now we have a different breed of kids who believe in themselves. There were a lot of mistakes out there, but I'm more proud that they came back and fought back."
The Royals jumped out to the lead just a minute and half into the game as Giovanni Paul Downie rushed for an 11-yard touchdown to take a 7-0 lead. Ahmad Fernandez later helped the Royals take a 13-6 lead on a two-yard touchdown early in the second quarter.
Fordham Prep sophomore quarterback Matt Valecce (18-of-27 for 215 yards, 3 TDs, 1 INT) withstood constant pressure from the Royals defensive line and kept his undermanned team in the game. Valecce had a good rapport with wide receiver Rory Allen (7 receptions for 110 yards, 3 TDs), who caught a 29-yard touchdown pass on fourth down and long with 7:19 left in the third quarter to cut the deficit to one point.
Christ the King extended the lead on the last play of the third quarter as Justin Terry completed his blitz of Valecce by intercepting his pass attempt and returning the ball to the end zone for a 30-yard touchdown. The Rams answered back with Valecce locating a wide-open Allen in the end zone for a 19-yard touchdown reception.
Allen caught a tipped-pass to earn the two-point conversion to give his team a brief 20-19 lead with 8:19 left in regulation. Yet it wasn't enough for his team to hold and win the home opener. Fordham Prep will host St. Francis Prep next Sunday at Coffey Field.
"I felt like we played a real good game but they had a couple of big plays that killed us down the field," Allen said. "We fought hard and our defense played really well. But the big plays really killed us today."
Navas won't allow himself or his teammates to let the victory swell their heads. because the goal is to compete for a Class AA league title. They have to be serious and studious nature, not cocky or overconfident.
"Well last year our trip into the playoffs set the table for us and now its just time for us to eat off the table," Navas said.
- See more at: http://www.msgvarsity.com/late-td-powers-christ-the-king-over-rams-1.1723710#sthash.kVPs3DPm.dpuf
---